See on Scoop.it – Cloud Computing and Social Media in Healthcare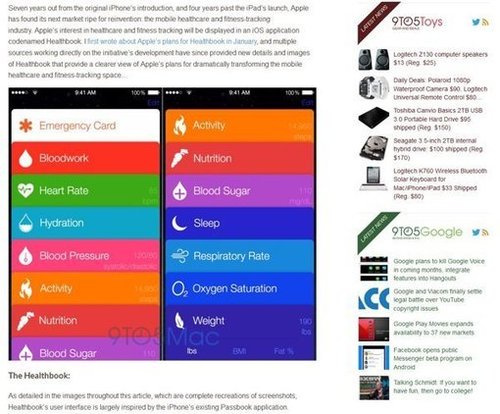 Details and images of Apple's first foray into the booming health and fitness tracking market have been leaked to through the website 9to5Mac. Codenamed Healthbook, the future app is likely to be included with iOS 8, the next iteration of Apple's mobile operating system.
According to the website's sources, Healthbook will allow users to track a multitude of different health indicators (heart rate, blood sugar, sleep, nutrition, activity, etc.), each of which can be accessed through its own "card." The entire program seems to be designed for use with next-generation health-tracking sensors.
The app even features an "Emergency Card," which will allow users to enter their critical information such as blood type, organ donor status, allergies and medications for doctors and emergency medical technicians in case they are unable to speak in a health emergency.
See on news.yahoo.com