See on Scoop.it – Social Media in Health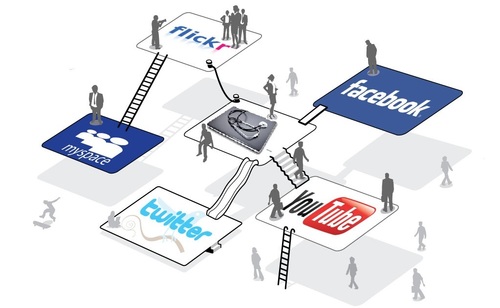 Healthcare by its very nature is social in many aspects. One of the recent developments of medical professionals is to enter the social media platform. We are all aware of the shift from volume based models to a more socially acceptable value based system in healthcare. The relationship between doctors and patients is getting more similar to other industries, i.e. the relation between a service provider and a consumer. The medical industry is seeking out new ways to implicate customer satisfaction and playing with the tools that proved to increase engagement and reach.
To reach out to customers, one of the savviest ways in this modern market is the use of social media. In fact, according to the Journal of Internet Medical Research, more than 60% of adults use the internet to come across health related information and treatment procedures. This isn't surprising as the culture of this world is seeking more of an instant solution. When an individual is sick, he wants to know what has really happened and wants it at that very instance. There is really no waiting. Social media in this case is perfectly positioned for healthcare professionals to reach out to patients and provide solutions in an effective and valuable way.
An example for the extensive use of social media in healthcare practiced could be well understood by the stand of the Mayo Clinic Center for Social Media. It is one of the most popular healthcare channels on YouTube with more than 450,000 followers on Facebook and 600,000 on Twitter. Further, they have come up with different Facebook pages especially concerning different departments including gynecology, breast cancer, cochlear implants and many more.
Also the Mayo Clinic has three different blogs targeting different audiences. The main idea is to share expertise with the masses that would very well be your main customer base. Services provided in social media networks for medical professionals would also include webinars, training programs and access to resources. It is quite relevant to assume here that social media plays an increasingly important part in the healthcare industry as more and more professionals and institutions seek the path taken by the Mayo Clinic.
Digital communications and especially social media are laying deep roots in day-to-day healthcare operations. This network includes doctors, patients, nurses, therapists, clinics, hospitals and other professionals who use social platform as a tool for a more effective and far reaching means of communications. YouTube, Twitter, Facebook, Google, etc are used to share symptoms, research medical information, offering opinions, seeking similar communities, and provide health plans and even prescribe drugs. People use the social medium to keep in touch with other in similar communities having the same symptoms and seeking out references for a proper treatment. If something has worked out for one, it surely will work out for others.
Another report by the Pew Internet Research titled "State of Social Media in 2013" suggests that 60% of U.S. patients use social tools like Titter, Facebook, Instagram, Pinterest to stay connected and interact with others having the same interests. 35 % of American adults have tried to figure out medical conditions from others who might have gone through a similar condition. The e-patient idea is a powerful growing force challenging to break the traditional barrier that had existed between healthcare providers and patients. The new system is more enables, empowered, equipped and engaged and could be further used to educate and enhance health by offering DIY techniques in some instances.
Drawing inspiration from their social habits, the majority of internet users today are demanding access to online information and seeking out alternative ways of treatment that improve care and contain costs. Social media is acting as a catalyst to drastically impact patient motivation and the interaction with service provider. The collaborative technologies of today and the resulting innovations also allows for quicker dispersal of information and help patients who seek out immediate and cost effective medical services.
Since now, the traditional methods of interaction between patients and healthcare professionals allowed little opportunity for the patients to have a say on the logistics, alternative and the methods of care delivery. Now, with the connected setup, the idea has thoroughly changed and patients are empowered to have a greater say and play a role in their wellness and treatment.
The medical service provider is nothing less than any other consumer market. There is competition between service providers (both institutions and individuals) and patients have a wide opportunity to choose someone they would be comfortable with. This could be intimidating for physicians who still want to stick to old school methods, but it certainly benefits everyone.
See on www.informationweek.in